Lexus is pleased to announce a creative collaboration with the multi-award-winning music producer for its new flagship coupe, the Lexus LC. The campaign, aptly named Make Your Mark, will help introduce the new model and a new era for the luxury brand.
Through working with Ronson, Lexus will continue to realise its ambition to create amazing experiences, in music, art and technology. Make Your Mark follows on from the successful 2015 international campaign The Life RX, which featured the celebrated actor Jude Law.
During the next six months Make Your Mark will deliver a range of exciting content and experiences for customers and fans.
Speaking about the campaign, Mark Ronson said: "I always like to work with collaborators who are innovative and unique in and out of the studio. When I was approached by Lexus with the concept of this campaign and saw the new LC, it felt fresh and exciting; I was drawn to the idea of using music to inspire and create an experience around this car."
The LC is the figurehead of an evolving new vehicle development culture at Lexus in which design and engineering teams have worked in an unprecedented collaboration to produce a car that surpasses all expectations. The LC's design is remarkably faithful to the radical styling of the original LF-LC concept car, and both are recipients of international EyesOn Design awards.
Alain Uyttenhoven, Head of Lexus Europe, said: "Mark Ronson is the iconic music producer behind some of the biggest hits of the decade and we couldn't have thought of a better collaborator for the Make Your Mark campaign.
"The Lexus LC symbolises the beginning of a new phase for Lexus which is all about creating greater synergy between engineering and design. Who better to work with on this than Mark – a man who has made a significant contribution to the world of music through his incredible performances and collaborations."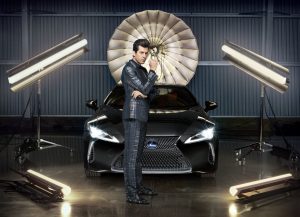 Comments
comments