She is not even 20 years old, but her name is already known all over the world, Zara Larsson! The beautiful singer, from Sweden, is one of the hottest artists in the industry right now and everything she touches turns to gold.
Despite her young age, Larsson started out even younger, with only 10 years she auditioned for the reality show Talang Sverige, which is the Swedish equivalent to Britain's Got Talent. However, she did not only audition, but also won the competition, with took place in 2008, and took home 500,000 Swedish kronas. After her win, she released her first single which was a cover of Céline Dion's "My heart will go one", but after that she disappeared out of the limelight again. Not for long, though!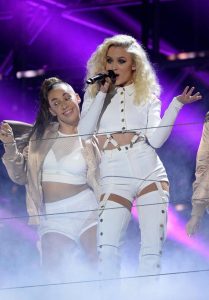 In 2013, she was back with a bang, her song "Undercover" reached the top of the Swedish and Norwegian charts and her debut record "1" soon followed. As expected it debuted on the top spot of the Swedish Billboard.
Her international break came in 2015 with the release of "Lush Life", with that upbeat Pop song she shot on to the radar of the European Music Industry and stayed there. More Singles followed and within a year it was impossible to imagine how radio was cool before her.
In March 2017, she released her second studio album which extended the footsteps of the first one and reached the top ten of multiple European Billboard Charts.
She became more popular in the USm following her North America Tour  which launched on 31st of March along with the UK band Clean Bandit, with whom she recorded the song Symphony earlier this year.
We cannot wait to hear more music from Zara and are looking forward to the next years!
Comments
comments