Emily Jean Stone, better known as Emma, officially belongs to Hollywood's elite after her first Oscar win for "La La Land" this February.
The 28-year old actress won everything this awards season for her role as Mia in the modern musical, but how was Emma capable of winning her first Oscar at such a young age?
The answer is simple: patience, talent, a bit of luck and stamina.
Emma always knew that she wanted to be an actress, in 2003 she prepared a PowerPoint presentation for her parents called "Project Hollywood", to convince them to move to Hollywood, where she could pursue her acting dream. She succeeded in the end and in January 2004 she moved to Los Angles with her mother.
What followed, however was not the big break she dreamed of, but a row of disappointments, as she auditioned for multiples roles, but ended up getting none.
From 2004 till 2007 Stone manly played minor roles in TV Series, the big break was yet to come.
The first glimpse of that came in 2007, as she made her first appearance in a film called "Superbad". After acting alongside Jonah Hill and Michael Cera, she got more roles in movies such as "The Rocker" (2008) and "The House Bunny" (2008).
In 2009, she started next to Jesse Eisenberg, Woddy Harrelson and Abigail Breslin in the Zombie-hit "Zombieland". However, her real big break came with the leading role in "Easy A", which was released in 2010 and received positive reviews and was a big success at the box office as well.
Since then, Stone career is only going upwards. In 2011, she ditched the type-role casting of the hot love interest and portrayed, a strong independent woman, in the Oscar nominated film "The Help".
Furthermore, did she played alongside Steve Carell, Julianne Moore
and Ryan Gosling in the comedy "Crazy, Stupid, Love" (2011).
Like it is with many popular actors Marvel soon knocked on the door and Stone was announced as Gwen Stacy in the then upcoming "Amazing Spiderman" reboot, alongside Andrew Garfield.
In the years after Stone was a part of more than one big project, like "Gangster Squad" (2013), "The Croods" (2013), "The Amazing Spiderman 2" (2014), "Magic in the Moonlight" (2015) and the best picture winner of the 87th Academy Awards "Birdman". For her role in that movie Stone herself was nominated for an Oscar.
To explore further forms of the acting side, she started in the Broadway Musical "Cabaret" (from November 2014 – February 2015).
Seeing her in Cabaret, director Damien Chazelle casted her as Mia in his musical "La La Land", the leading male role would be played by Gosling.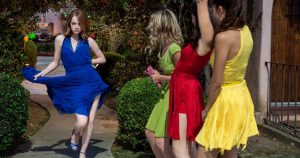 La La Land became an instant hit and is now loves all over the world. Stone received every big award possible for her role as Mia; a Golden Globe, a BAFTA and of course an Oscar.
However, Stone is far away from leaving the limelight and has many upcoming projects. The most exciting one is probably the real adaptation of 101 Dalmatians, in which she will play Cruella De Vil.
We cannot wait to see her performances in the future.
Comments
comments