She is the English queen of Youtube, Zoe Sugg, better known as Zoella. The 27-year-old beauty from Wiltshire has the go-to Youtube channel when it comes to Lifestyle and Beauty, over 12 million subscribers follow her page and every video she posts has more than 100,000 views after 1 hour! All this can only be described as Zoella Maniac.
However, before she became a Youtube sensation, Zoe and her brother Joe lived a normal teenager life school, friends and occasional boredom was a normal part of their daily routine. Nevertheless, Zoella stressed that it was on one of those boring evenings that she started her blog, "Once Upon A Time, In February 2009, after indulging in various other Beauty Blogs as a way to read up on the latest goings on in the Beauty world, I decided to join in on one very boring evening, and "Zoella" was born" and with that everything started!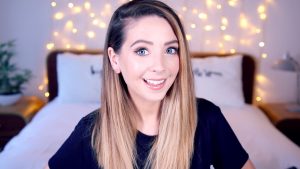 Since then, a lot has changed. Zoella has now more than 10 million Instagram followers and on Twitter 8 million people want to know what she is tweeting about. Her debut novel "Girl online" debuted number 1 on the Bestseller-list in 2014. However, the biggest thing for her was to launch her one beauty range, which is available at Superdrug.
Zoe belongs to the top Influencers on Social Media and is a regular figure on red carpet events all over the world.
The only way Zoella knows is up.
Comments
comments